Support Staff
Our legal support staff is dedicated to defending your interests from start to finish.
When you work with an attorney at Riposta Cassidy Law, you also gain the benefit our dedicated and talented law firm staff. These team members go above and beyond on a daily basis to help serve you, protect your rights, and get you the justice you deserve.
Kristy R.Miller, Paralegal
Kristy R. Miller, C.P. and notary public, a longtime resident of North Arlington, New Jersey, has been with this firm, through all of its transitions, since 1998. With over twenty-three years of experience here alone, Kristy is often referred to as our "Jill-of-all-trades", as she wears many hats here, and wears them all well!
Kristy, our office manager and managing paralegal, has been certified as a paralegal by the National Association of Legal Assistants (NALA) since December 1, 2020 and has been an NALA member since September 2014. Becoming a NALA Certified Paralegal means that she has successfully passed a rigorous examination of the knowledge necessary to be an effective paralegal. Her vast experience, complimented by this exemplary credential, make her a necessity to the firm's operations. She is also a member of the Paralegal Association of New Jersey since January 2020.
Not only does Kristy frequently confer with our clients for updates, real estate and estate related paperwork, assist the attorneys with their paperwork and motions, and assist the attorneys in court with exhibits and technology at the time of trial, she also can be found solving a myriad of issues here at the office, from helping set up technology to ordering supplies. The firm's clients are lucky to have her assisting the office with the execution of cases and transactions, and ensuring that the office operations run smoothly.
Outside of the office, Kristy enjoys spending time with her dear family and friends, talking her beloved puggle Louie on long walks, and reading romance novels.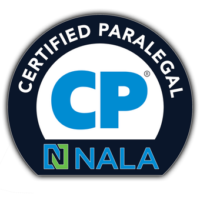 Bonnie L. Binetti, Legal Secretary
Bonnie Binetti, the office's legal secretary and notary public, a longtime resident of North Arlington, New Jersey, has been with the firm since 2003. Being with this office for over 18 years, Bonnie has become an invaluable source of support to the office and our clients.
Bonnie handles all calendar matters for the office and keeps the attorneys and paralegals on course with their schedules, one of her many important roles here. She also often lends a kind and compassionate ear to clients, extending her tireless comfort and support to them, who often find themselves in stressful situations leading them to seek counsel here. It is not uncommon for us to hear from our clients how Bonnie helped calm them down!
In her spare time, Bonnie enjoys being with her family and friends, singing, walking long distances, and traveling to her favorite place—Florida!
Gabrielle M. Mulvanerton
Gabrielle Mulvanerton joined the firm as a paralegal in 2020. Gabby graduated from Montclair State University early—after only three years of study—with a bachelor's degree in psychology and a minor in English in 2016. After entering the workforce, Gabby decided to pursue her passion for legal work by obtaining her associates degree in paralegal studies, which she obtained in 2020 at an American Bar Association accredited institution.
Gabby has jumped right into the office operations, frequently assisting attorneys with drafting documents and speaking with our clients in order to facilitate case management and obtain updates.
In her spare time, Gabby enjoys reading, traveling, and spending time with her family and beloved cat, Charlotte.
Our nimble and hardworking team of paralegals and legal secretaries are glad to assist in any way they can.
Questions about your case? Our expert legal support staff can help. Whether by clarifying legal requests, answering your questions about processes, helping with documentation, and more.
Legal Research
Trial Preparation
Filing Legal Documents
Draft Correspondence
Draft Contracts & Settlement Documents
Coordinate Appointments with Witnesses
Arrange Details & Schedule Trial Days
Organize Trial Information
Prepare drafts of Agreements or Settlements